Renuka Shahane has responded to Shah Rukh Khan after he praised her actor husband Ashutosh Rana during an ask me anything session on Twitter. Shah Rukh had called Ashutosh a 'gyaani' and 'antaryaami' when a fan asked him to say a few words about the actor. Ashutosh plays a pivotal role in Shah Rukh's upcoming film, Pathaan. Also read: Shah Rukh Khan talks about his first girlfriend, Pathaan fee and more in latest AskSRK session
During Shah Rukh's AMA on Twitter on Thursday, a fan asked the actor to say something about Ashutosh Rana. He replied to him, "He is a Gyaani (intellectual) and Antaryaami (one who knows from within) apart from being a very very fine actor."
Responding to Shah Rukh's tweet, Renuka Shahane wrote on Twitter, "you are unfailingly kind and generous and truthful," along with smileys and hands joined together emoji.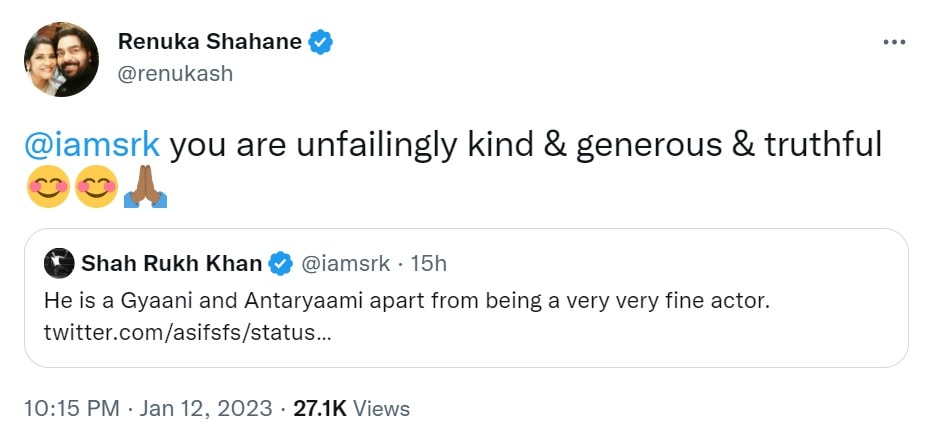 A fan commented on Shah Rukh's tweet, "Colonel Sunil Luthra he is. Had seen one of his work earlier a series in Netflix named Aranyak. Actor acche hai, Gyaani and Antaryaami hai aaj paata chala apse (I learnt from you Ashutosh Rana is an intellectual and knows about things)." Another said, "Ashutosh ji ki Ye antaryaami wali baat pata nahin thi …gyaani ka toh pata tha. Ab sabko pata chal gayi. (we knew he was an intellectual but we didn't know about him knowing things from within. Now we know)."
Ashutosh Rana plays the role of Colonel Sunil Luthra in Pathaan. The Siddharth Anand film stars Shah Rukh as a RAW agent and Deepika Padukone as a cop. John Abraham plays an antagonist in the film. Dimple Kapadia is also seen alongside Ashutosh Rana in the film's trailer that released on January 10. The spy thriller is scheduled to release in theatres worldwide on January 25.
Ashutosh Rana is known for his work in several films and shows in different languages like Dushman and Sangharsh. He was recently seen in web shows like Aranyak, The Great Indian Murder and Khakee: The Bihar Chapter. He was also seen in the films Samrat Prithviraj and Rashtra Kavach Om last year. His character from Pathaan is expected to return in Salman Khan's Tiger 3 as well.
Trending Topics to Follow