Shah Rukh Khan conducted an Ask Me Anything session on Twitter on Saturday evening and replied to several fans who shared their enthusiasm for the advance booking of his upcoming film, Pathaan. While he refused to help out a fan who asked him to help out with tickets for the first-day show, he also answered a query about his kissing scene in the film. Also read: Shah Rukh Khan watches Pathaan with Suhana weeks after minister's 'he should watch it with his daughter' demand
Shah Rukh refused to help out a fan who said he was unable to book the 'first day first show' of the film. The fan asked the actor, 'Book my show crashed, @iamsrk Can you give me 2 ticket so I will watch FDFS." Shah Rukh wrote to him in response, "Nahi tickets toh you will have to buy yourself…crash or no crash (only you will have to buy the tickets, the site crashes or not)."
Shah Rukh also replied to a fan who asked him if he has a kissing scene in the film. Replying to a question 'Pathaan kise kiss krega? (whom will Pathaan kiss)?" Shah Rukh replied, "#Pathaan Kiss karne nahi….Kick karne aaya hai (Pathaan is not here to kiss but kick)."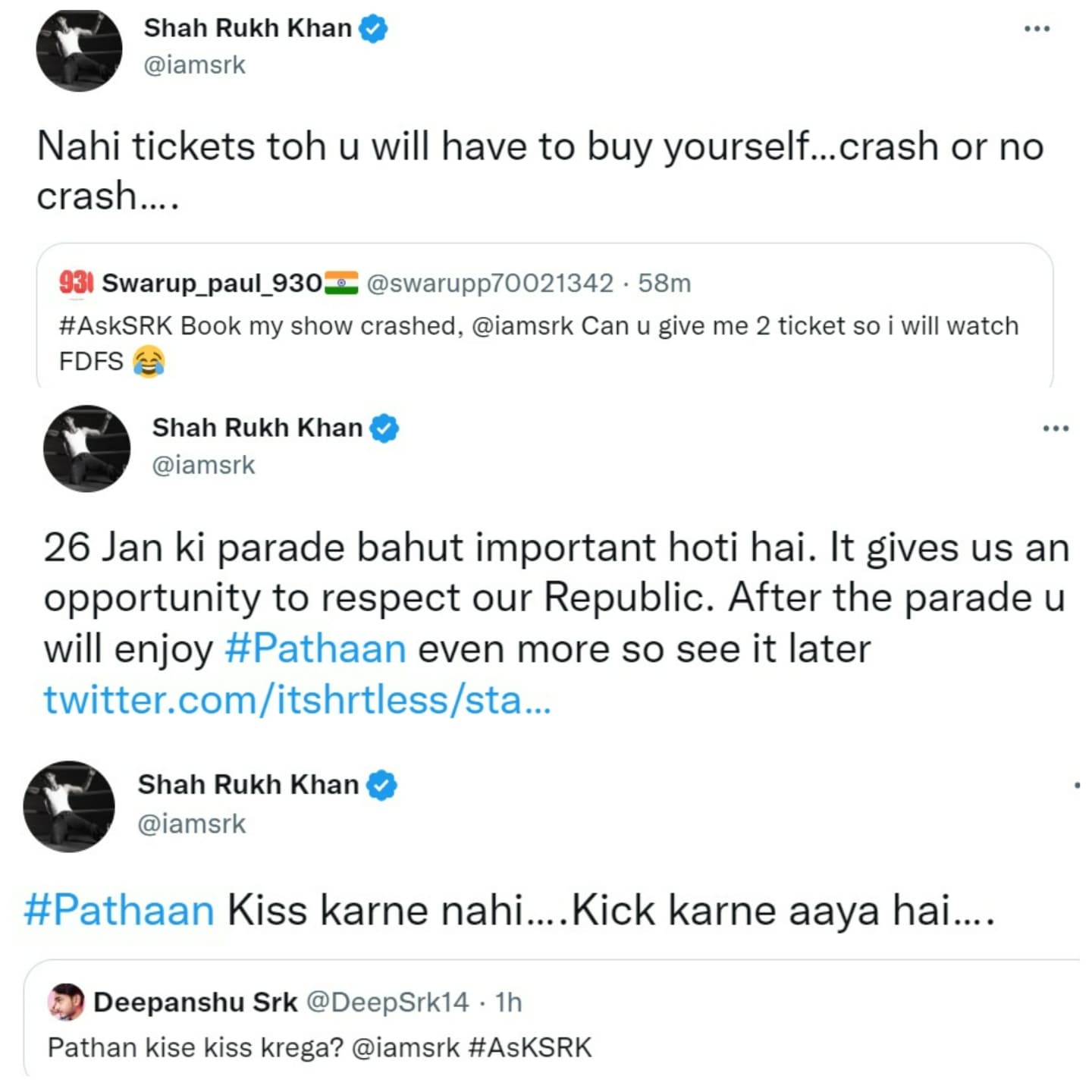 A fan also shared his still from Pathaan and asked him about the exact number of abs he had. Shah Rukh replied, "Defines my body of work".
In reply to a question which was however deleted by the user, Shah Rukh also asked a fan to watch Pathaan after watching the Republic Day parade on January 26. He wrote, "26 Jan ki parade bahut important hoti hai (26 Jan parade is very important). It gives us an opportunity to respect our Republic. After the parade you will enjoy #Pathaan even more so see it later."
On being asked about how was he feeling after seeing the overall response for Pathaan, the actor replied, "Feeling good that the hard work of so many people is being appreciated in our team…#Pathaan."
Directed by Siddharth Anand, Pathaan stars Deepika Padukone, John Abraham, Dimple Kapadia, Ashutosh Rana and others. It is set to release ahead of the Republic Day on January 25.