New mom Alia Bhatt welcomed a baby girl – Raha Kapoor – with actor-husband Ranbir Kapoor in November last year. In a new interview, Alia spoke about 'women struggling with their new appearance post pregnancy'. The actor opened up about relating to new mothers 'who want to lose weight' after delivery. Alia also spoke about her weight loss since giving birth to Raha, and said that she had to shed weight because of films. Also read: Alia Bhatt and Ranbir Kapoor take daughter Raha Kapoor for a walk; Shaheen Bhatt joins them
The actor said new moms put 'a lot of pressure on themselves' to get back to looking a certain way. Alia Bhatt added that because films 'are a visual medium', she has to 'look appealing', and therefore 'had to lose weight' after Raha's birth on November 6, 2022. In a new interview, Alia admitted to loving food, and spoke about the pressure women face 'even before pregnancy' thanks to social media 'in today's age'
"I really want to talk about this. A lot of women struggle with their new appearance post pregnancy. They tend to put a lot of pressure on themselves to get back to looking a certain way. Everyone wants to lose weight and I can relate to that. I love food, I love to eat and I had to lose weight because films are a visual medium and you need to look healthy. You have to look appealing. In today's age, with every picture appearing on social media, girls even before pregnancy are constantly worried about how they look. Women should take a moment to appreciate their bodies," Alia told ETimes.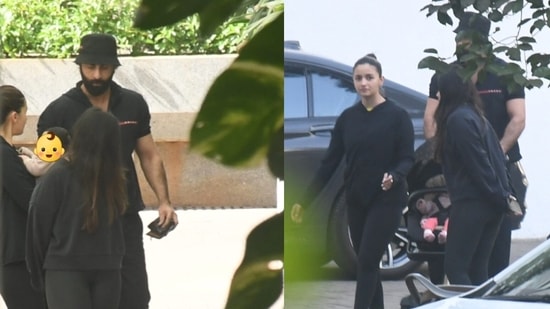 Alia further spoke about new moms keeping their bodies 'safe', and added that she works out now to be healthy, 'not to become thin or make her waist look smaller'. She said, "It's not just about getting back in shape, but building your immunity, and then, everything will follow. Now when I work out, I don't do it to become thin or make my waist look smaller. I do it to be healthy. The idea is to be fit and not starve yourself by following some unhealthy diet. I made a decision to never be hard on myself even if there's extra bloating or chubbiness here and there. I am going to celebrate it. I won't torture myself…"
In the same interview, the actor further dished out wellness tips for new moms, asking them to make an effort to remain healthy by eating veggies, including protein in their diet, doing yoga and going for a walk. Recently, Alia and Ranbir Kapoor were spotted outside their building in Mumbai as they took daughter Raha out on a stroller. Alia's sister Shaheen Bhatt had also joined them.
Alia and Ranbir had married at their home Vastu in April last year. Alia had announced the birth of their daughter on November 6, 2022. Taking to Instagram, the actor's baby announcement featured a lion and lioness with their cub, and read, "And in the best news of our lives: Our baby is here.. and what a magical girl she is. We are officially bursting with love – blessed and obsessed PARENTS!!!!!"